We have arrived at the third and final part of our trip to Copenhagen. You can find part I and part II right here.
For me, the biggest must on our Copenhagen trip was to visit Louisiana. This art museum was one of my favorites growing up and I was longing to go back and see it again. After a 45 min train ride from Copenhagen Central Station and a short walk you are met by a very anonymous facade. It feels almost like you are entering into a private residence. But as soon as you pass the reception the building opens up and you have a grand view of the museums garden and the ocean. This is one of the things i love about Louisiana, it is almost like visiting an eccentric and insanely rich aunt who has turned her house and garden into an art exhibit.
The mood is calm yet playful walking along the corridors finding new rooms with new exciting exhibitions. One of their temporary exhibitions at the moment were "Picasso before Picasso", showing sketches and paintings from early adolescence up to when Picasso founded and mastered his signature style: Cubism. Although this is a temporary exhibition Louisiana can boast with some great permanent exhibitions as well. My favorite being the Louisiana Classic showing work by artists like Lichtenstein, Warhol, Picasso, Yves Klein and many more. If you are staying more than two days in Copenhagen you should definitely take the time to visit Louisiana, see exhibitions, eat a great lunch*, and enjoy the sculpture garden and its amazing views!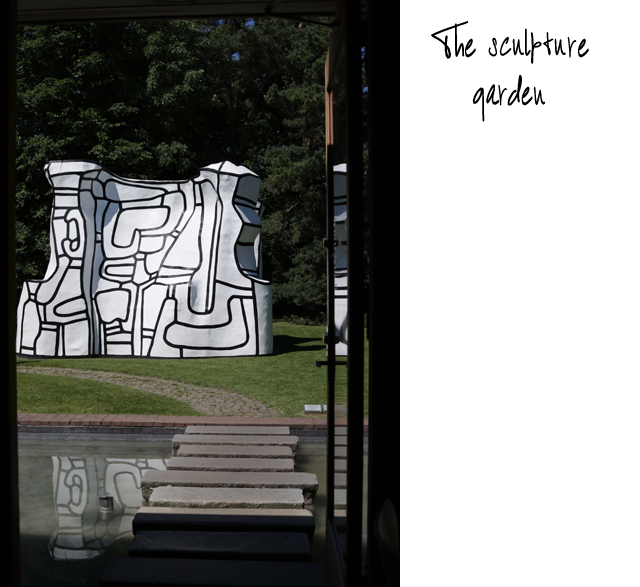 If you have read about and are interested in Copenhagen you've probably heard about Christiania. Also known as Freetown Christiania, it is a self-proclaimed autonomous neighborhood in Copenhagen. Occupied during the 70's, it quickly became part of the hippie movement advocating collectivism and free thinking. To this day Christiania attracts freethinkers from around the world and is Copenhagen's second largest tourist attraction. When entering Christiania you walk right onto Pusher Street. Which because of its numerous cannabis stalls and high concentration of addicts can have a very hostile feel. On the other hand it also has cafés, restaurants, beer gardens and ice cream shops which really are worth the visit, especially if you are looking for vegetarian cuisine. Passing through Pusher Street you enter the more residential area of Christiania with quirky self built houses and gardens. Which make a very nice walk along the water. A tip is to leave your camera at home for this one, taking pictures is not appreciated in Christiania.
Being the daughter of a bridge engineer I couldn't resist visiting Olafur Eliasson's Cirkelbroen. A pedestrian bridge over Christianshavns canal. It is made up of five circular platforms each topped by a tall mast. Cirkelbroen is a swing bridge, which means that one section rotates to allow larger boats to pass into an out of the canal. According to Eliasson the zigzag design of the bridge will make the pedestrians and cyclists reduce their speed, making it a place for thought and to slow down and hopefully making it into a meeting place. I personally love round shapes in design and architecture and this really is a calm and beautiful place looking out over the busy canal with all its boats. Definitely worth a visit if you are into architecture and design!
Did you enjoy this series? Please let me know in the comments below!
---
*I can really recommend their buffet
PHOTOGRAPHER & EDITOR – Caroline Ø Dalili