As a birthday gift, B treated me to a few days in Copenhagen. Although I lived just outside of Copenhagen when I was a kid, I really hadn't experienced the city as an adult. So I was very excited to go back!
We stayed at the beautiful Crown Plaza Copenhagen Towers hotel a short metro ride from the city center. The underground network in Copenhagen is quite small, consisting of only 22 stations as of today. It is super easy to use and the trains run every 2-3 minutes.
We started our first day with amazing summer weather, strolling around town and doing the typical touristy stuff. We went to Kongens Nytorv, where the big shopping street Strøget begin. Strøget is much like any big shopping street in any part of the world, with the most prominent brands and shops.  However if you stray just a few streets away you'll find sweet boutiques and more local brands, especially walking towards Nørreport. Staying on Strøget there are a few places that you have to visit. You have Illum, the big apartment store with everything in beauty and fashion. They also have a beautiful rooftop with plenty of restaurants to choose from. Then there is Illums bolighus where you can quench your thirst for Scandinavian design. And if you still want more HAY house is across the square full of Scandinavian design inspiration.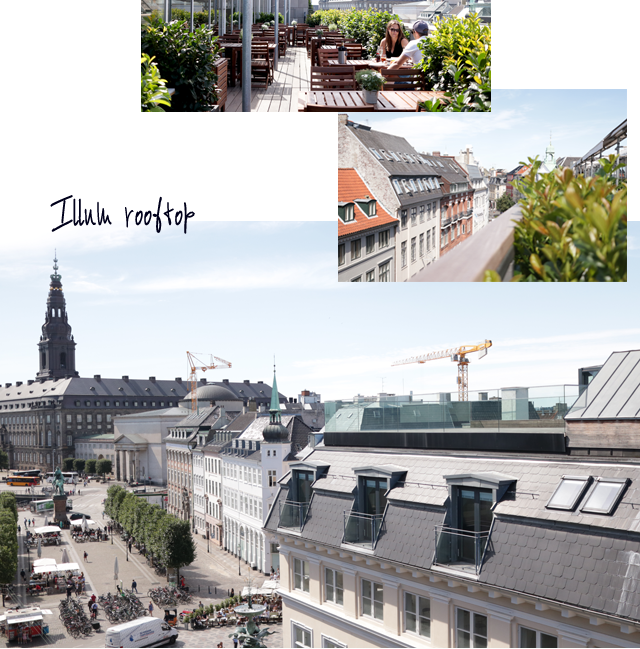 If you choose to walk all the way to Nørreport you have to visit Torvehallerne. Here you'll find fresh produce from fish to locally produced veggies, beautiful flowers, and you can eat or have a drink at one of the many food stalls. Torvehallerne is a lovely outside/inside market where, if the weather allows, you can enjoy a beer and some tapas in one of the outside dining areas.
After a quick look at Strøget we went on to Nyhavn, with its colorful facades. Walking along the water, starting at Nyhavn and up towards Kastellet and Den lille havfrue (The little mermaid). It is a really nice walk and along the way there is much to see. Like the opera house on the opposite side of the water and Amalienborg where the Queen of Denmark lives. As a kid I remember visiting Den lille havfrue and having a tradition of buying røde pølser* at the kiosk close by. Unfortunately I couldn't find any røde pølser this time, but there was plenty of other hotdogs and ice-cream to choose from.
After a long day of walking all around the city it was nice to come back to the hotel, put our feet up and relax in the lounge with some snacks and a drink, talking about the day. Copenhagen is a great city to explore on foot if you like walking. Biking around the city is also a great way to get around town as it is the biking capital of Scandinavia.
You can read part two where we explore more of Copenhagen outside of the city center right here!
What would be the biggest draw for you to visit Copenhagen? Leave me a comment below and let me know!
---
*Meaning "red sausages" and is a Danish sausage that is, surprise surprise, all red. You eat it with everything on the side (even the bread), dipping it in ketchup, mustard and fried onions. If you can find it you should really try it, it's a great meal on the go.
PHOTOGRAPHER & EDITOR – Caroline Ø Dalili