There is a wide variety of hangers out there and sometimes it can be hard to know what goes on what. My philosophy is to try to keep it simple and practical. As you might know I'm a total closet/clothes nerd. I love to take good care of my clothes and one way to do so is to have the right tools. So here are three hangers your closet simply can't be without and how to use them.
Coat hangers
Coat hangers are a bit wider to support the weight of a heavy winter coat and still making sure it hangs nicely. Place the coat or jacket evenly over the hanger, so it keeps its shape and doesn't crease. If the coat is moist hang it somewhere else to dry before placing it in your closet. This is to prevent weird smells, unnecessary creasing and damage to your coat and/or other clothes in your closet.
Thin hangers
Thin hangers are great for blouses, shirts or dresses that you don't want to place in a drawer. And you can fit many more items on your rail than if you'd use only coat hangers. A thin hanger is great for more delicate pieces as well, just make sure that the shape of the hanger doesn't deform the shoulders of your garment. Knits are usually best placed in drawers to avoid this. Even though you can fit many more items in with thinner hangers, try to leave some space in between the garments. This gives you a better overview of what you actually have in your closet and it keeps the clothes feeling fresh and wrinkle free.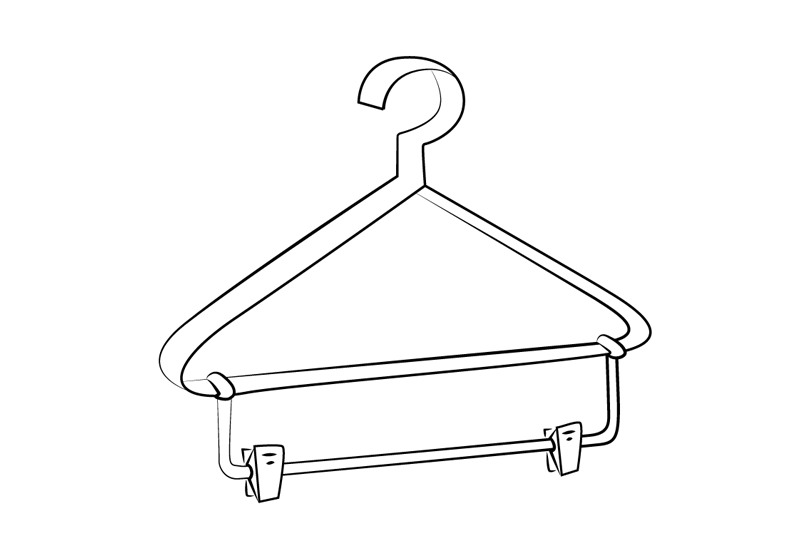 Pants and skirt hangers
Pants hangers can look and function in a few different ways. My favorites are when you simply fold up your pants and hang them over the bottom of your hanger or when you hang them in clips. Jeans and more everyday pants are great to fold and hang on the bottom of your hanger. This also saves vertical space if you don't have the space to hang a pair of full length pants. Hangers with clips gives you a better overview of your different garments and keeps them crease free. They are also great for skirts, since you most likely don't want to fold them.
So there you have it, my three favorite hangers that you simply can't be without. All in the name of a happy closet. I hope you enjoyed! Do you agree with my list? Let me know and leave me a comment below. See you next Tuesday 🙂
---
You can find these hangers here.